Reviewing the 2024 Nissan Leaf EV - Complete Insights!
Reviewing the 2024 Nissan Leaf EV
The 2024 Nissan Leaf continues to be a top choice for electric vehicle enthusiasts. With its stylish design, advanced technology features, spacious interior, impressive engine performance, and comprehensive safety features, the Leaf offers a compelling package for eco-conscious drivers. This article will delve into the Nissan Leaf features.
Notable Changes From the Previous Year
The 2024 Nissan Leaf changes showcase a revised grille, front bumper, and exterior lighting. This makes it more visually appealing. Additionally, you'll receive stunning multi-spoke wheels and an illuminated Nissan badge that adds a touch of sophistication to the Leaf's exterior.
Infotainment and Technology Features
The Nissan EV has advanced infotainment and technology features to enhance your driving experience. Some of the notable features include steering wheel audio controls. You can control your audio system without taking your hands off the wheel. The navigation system allows you to get turn-by-turn directions and explore new routes easily.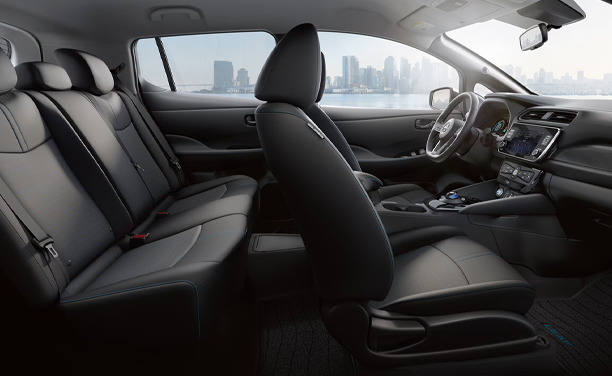 Exterior Design
The Nissan Leaf EV boasts a sleek and aerodynamic exterior design. With a wheelbase of 2,700 mm, the Leaf offers a stable and comfortable ride. The variable speed intermittent wipers ensure optimal visibility in varying weather conditions. Integrated turn signal mirrors and an auto-dimming rearview mirror further enhance safety and visibility on the road.
Interior Comfort and Cargo Space
With a seating capacity of five passengers, you can easily accommodate your friends and family. The Leaf offers generous cargo space, with 850 litres with the rear seats folded down and 668 litres with the rear seats up. Climate control ensures a comfortable ride, while heated front and rear seats keep you warm during colder months.
Engine and Performance Features
The Leaf EV is powered by a 40.0-kWh battery pack, providing a commendable range of 341 km. With 214 horsepower and 250 lb-ft of torque, the Leaf delivers impressive performance on the road. The power steering system ensures responsive handling, while the front-wheel drive drivetrain provides stability and control.
Safety and Driver-Assistance Features
Safety is a top priority in the Leaf EV. The Leaf is equipped with seven airbags to protect occupants in a collision. In addition, child safety locks provide peace of mind for families. The Leaf also includes advanced driver assistance features such as brake assist and adaptive cruise control. This makes every journey safer and more convenient.
Trims With Pricing*
SV FWD $44,592 

SV Plus FWD $50,342
Reserve a 2024 Nissan Leaf In Ottawa Today
If you're in Ottawa and looking for an eco-friendly and technologically advanced electric vehicle, the 2024 Nissan Leaf EV is the perfect choice. Reserve your Nissan Leaf in Ottawa at Myers Ottawa Nissan today! Our dealership offers the best prices and financing options in Ottawa.

* All pricing is based on Ontario MSRP and does not include taxes and fees. Dealer pricing may differ. Prices are subject to change anytime without notice.

Myers Ottawa Nissan

today!